VANOCKA is a bread traditionally baked at Christmastime. It's similar to brioche - rich in eggs and butter.
A vanocka is traditionally build from three progressively smaller braids (the first layer is weaved from four strands, the second from three and the third layer from two strands), stacked on top of each other.
Crumble the yeast into the room-temperature milk, add in 1 tablespoon of sugar, sprinkle evenly with flour, and then leave it in a warm place to rise. Put the rest of the flour, 8 tablespoons of sugar, the vanilla sugar, a pinch of salt, the lemon rind, the grated nut of nutmeg, one egg yolk, and the grated star anise into a bowl with the previous mixture when well-risen and mix well. After this, add in the softened butter and continue to mix well. When the dough no longer sticks to the side of the bowl, stir in the washed raisins and the cleaned, sliced almonds. Shape the dough in the bowl into a smooth loaf, dust it with flour, and leave it covered in a warm place to rise (with a larger amount of dough even all night.)
Lay greased parchment paper on a baking sheet and gradually layer the strands of the vánoèka on it. Leave it for a while on the sheet to finish rising, and then, before putting it in the oven, baste it with the whipped egg and sprinkle it with chopped almonds. Finally, puncture the vánoèka at both ends and in the middle with skewers to prevent warping of the dough during baking. Bake slowly for about 45 minutes.
When the dough has risen completely, divide it on a pastryboard into 9 parts to make the vanocka.
Roll each part into thin long strand of same lenght and thinckness.
The first layer is weaved from four strands. Place the four strands next to each other and start to weave from the centre as per pictures.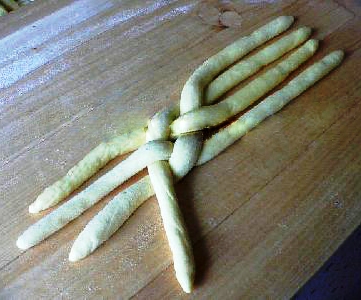 Až dojdeme nakonec, všechny čtyři prameny přimáčkneme k sobě a stejně dopleteme z druhé strany. Přeneseme na plech vyložený papírem na pečení. Další patro upleteme ze tří pramenů jako klasický copánek, poslední dva jen omotáme navzájem kolem sebe.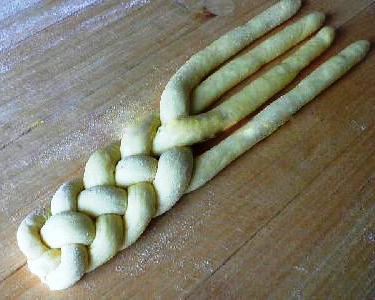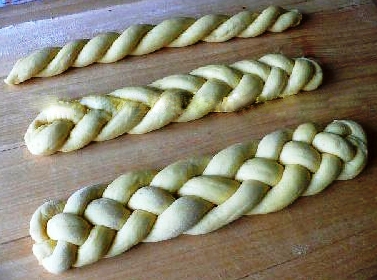 Pletenec ze čtyř pramenů na plechu hranou dlaně uprostřed rozmačkáme aby byl širší. Poklademe mandlemi, kousky ořechů a rozinkami.
Na ně pložíme copánek ze tří pramenů, opět ho uprostřed přimáčkneme k dolnímu copu a posypeme mandlemi, ořechy a rozinkami.
Nahoru položíme pletenc ze dvou pramenů a na krajích všechny části přimáčkneme k sobě. Upletenou vánočku necháme kynout ( 20 - 30 minut).
Pak ji na několika místech zpevníme zapíchnutím částí špejlí, potřeme rozšlehaným vejcem a dozdobíme ořechy a mandlemi.
Vložíme do trouby vyhřáté na 180°C a upečeme (doba závisí na velikosti vánočky). Z upečené vánočky vytáhneme špejle (je třeba s nimi nejdřív zakroutit), přikryjeme utěrkou a necháme vychladnout.